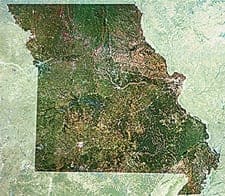 Lawyers from the American Civil Liberties Union are challenging Missouri's constitutional ban on same-sex marriage after two couples were denied marriage licenses in Kansas City. The lawsuit argues that Missouri violates the equal protection and due processes clauses of the U.S. Constitution with its limited definition of marriage as the union of one man and one woman.
Missouri ACLU attorney Tony Rothert filed the lawsuit last Tuesday, though the case itself was not publicized until late Friday afternoon so as not to distract from the fight for equality in neighboring St. Louis. Francis Slay, mayor of St. Louis, endorsed his city's issuance of marriage licenses to same-sex couples as a challenge to Missouri's ban. Though the two cities are challenging the ban with different approaches, both Mayor Slay and Rothert hope to eventually strike down the gay marriage ban.
The ACLU previously brought suit against Missouri and its discriminatory ban back in February of this year.
Because of their technical illegality, Chris Koster, Missouri's Attorney General is currently asking for injunctions against the marriage licenses that have been issued thus far.
"While I personally support the goal of marriage equality, my duty as Attorney General is to defend the laws of the state of Missouri," Koster said last Thursday. "While many people in Missouri have changed their minds regarding marriage equality, Missourians have yet to change their constitution."