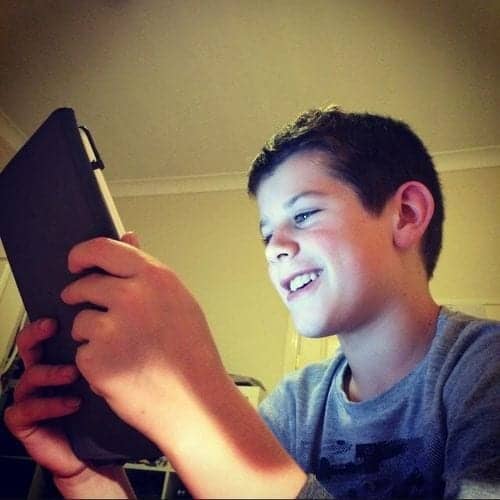 What a terrific kiddo! 
An 11-year-old boy from the Newcastle area of Australia recently wrote a heartfelt plea to Prime Minister Tony Abbott asking him to allow his two moms – along with all other LGBT Australians – the chance to marry the person they love.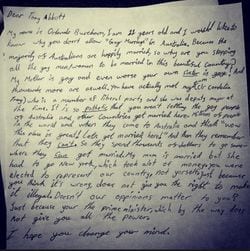 My name is Orlando Burcham, I am 11 years old and I would like to know why you don't allow 'gay marriage' in Australia
Because the majority of Australians are happily married, so why are you stopping all the gay men/women to be married in this beautiful country?
My mother is gay and even worse your own sister is gay! And thousands more are as well. You have actually met my mum Councillor Cordelia Troy who is a member of the Liberal Party and she was deputy major at the time.
It is so pathetic that you aren't letting the gay people of Australia and other countries get married here. Millions of people in the world and when they come to Australia and think 'wow this place is great! Let's get married here!' And then they remember that they can't. So they spend thousands of dollars to go somewhere they can get married. My mum is married but she had to go to New York, which took a lot of money.
You were elected to represent our country, not yourself. Just because you think it's wrong, does not give you the right to make it illegal. Doesn't our opinions matter to you? Just because you're the Prime Minister, which by the way does not give you all the power.
I hope you change your mind.
Shortly after sending the letter, Orlando received a reply from the PM saying that while he appreciated the "deep feelings that many in the community have on either side of the issue," his personal views remained unchanged and that he supported the "existing definition of marriage"
And although Orlando was disappointed by the PM's response, his mom was still immensely proud.
"I'm so proud of my boy," says his mum. "He's got such a beautiful heart for justice. He sat and wrote this one night after hearing a news report. the only hint was 'mum, how do you spell beautiful?' then 'how do you spell pathetic?'" she laughs.
[via same same]