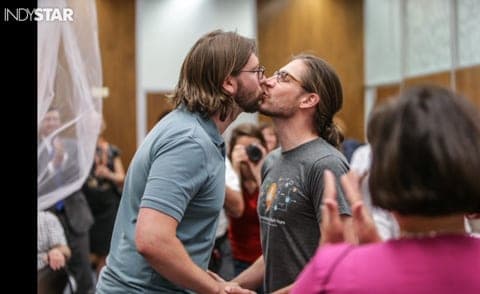 The 7th Circuit Court of Appeals granted a stay pending appeal of the ruling this week striking down the state's gay marriage ban placing the marriages of hundreds of gay and lesbian couples in legal limbo.
Lambda Legal responds:
"For now, same-sex couples are once again denied the freedom to marry in Indiana.  The emergency order issued by the appeals court not only puts on hold the continued issuance of marriage licenses to same-sex couples, but it also prevents continued recognition of the marriage of Niki Quasney and Amy Sandler, who were granted emergency relief early in the case because Niki is battling Stage IV ovarian cancer.
"Niki, Amy, and their two toddler-aged daughters need respect as a legal family during this agonizingly difficult time. It is wrong to block the marriages of all couples and it's a shameful display of cruelty towards a Niki and Amy and their two children whose marriage is vital as they battle an aggressive cancer and fight to be together. Lambda Legal will do everything in our power to win marriage for all Hoosiers.  Greg Zoeller will not have the last word, justice will."