The Sixth Circuit Court of Appeals has scheduled hearings for five marriage cases in four states on August 6, the Washington Blade reports: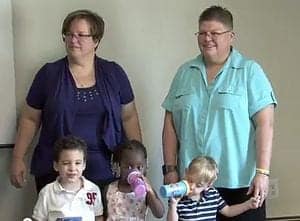 In four separate notices on Monday, the Sixth Circuit, which is located in Cincinnati, announced that arguments for the cases in Michigan, Ohio, Kentucky and Tennessee will take place on August 6 at 1 pm.
James Esseks, director of the American Civil Liberties Union LGBT project, said his organization welcomes the developments for each of the cases. His organization is assisting with litigation in the Ohio case.
"We're happy to see the Circuit taking up this issue so quickly," Esseks said. "All the cases together reinforce how sweeping and widespread are the harms that come from the marriage bans."
Every case seeks same-sex marriage recognition rights of some sort, except the case from Michigan, which seeks to win the freedom for gay couples to marry in the state.
According to Equality on Trial:
Michigan: Arguments in DeBoer v. Snyder will be one hour, with 30 minutes per side.
Ohio: Arguments in Henry v. Himes and Obergefell v. Himes will be one hour, with 30 minutes per side.
Kentucky: Arguments in Bourke v. Beshear will be 30 minutes, 15 minutes per side.
Tennessee: Arguments in Tanco v. Haslam will be 30 minutes, 15 minutes per side.
In related news, DOMA attorney Roberta Kaplan had filed a motion to intervene in the Ohio case but she has been denied:
According to the eight-page notice handed down from the court, Kaplan was denied the ability to participate because the cases is too far advanced at this point.
The state of Ohio and the ACLU had objected to Kaplan's motion to intervene.