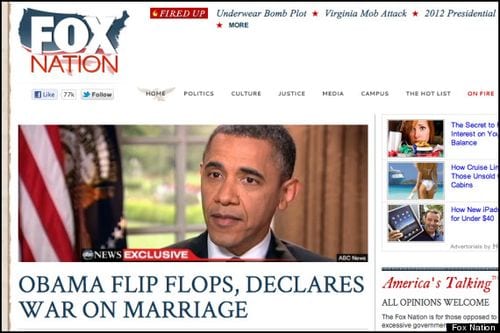 Fox News' coverage of same-sex marriage victories in the past year has been "largely absent" compared to other major networks, according to a new study by Media Matters for America.
Fox News has spent just over 10 minutes covering the 13 court decisions in favor of marriage equality since Windsor, according to an Equality Matters analysis examining the five-day windows after each decision, during which period these decisions were actual news stories, with the bulk of the network's coverage devoted to one state, Utah. New Mexico and Michigan's decisions received no coverage at all, and the majority of the decisions received less than a minute of attention[.]

…

For the four states – New Jersey, New Mexico, Oregon, and Pennsylvania – where same-sex marriage has taken effect as a result of court rulings post-Windsor, Fox News has provided a scant two minutes and 14 seconds of coverage, compared with nearly 16 minutes from CNN and more than an hour from MSNBC[.]
Luke Brinker, a researcher at Equailty Matters at Media Matters for America, writes that "the network has withdrawn from its battle against same-sex marriage, uninterested in dwelling on the end of an era when warnings of activist judges and slippery slopes could score the network cheap points without raising many eyebrows."
Despite the claim that Fox has withdrawn from the same-sex marriage battle, its strong anti-gay presence is still felt. Just last week Fox had a so-called 'expert' on who said that the Santa Barbara shooter may have gone on his rampage because of "homosexual impulses".
For more analysis on Fox News and LGBT equality check out the EqualityMatters.org.