Gay former San Diego councilman Carl DeMaio and incumbent Congressman Scott Peters will face off in November after last night's primary in the 52nd Congressional District race, KPBS reports: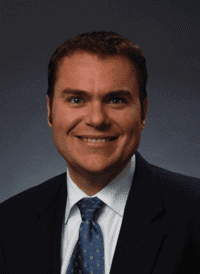 Peters has 43 percent of the vote, while DeMaio has 36 percent, with more than half the votes counted so far.
Former Marine Officer Kirk Jorgensen has 17 percent and surgeon Fred Simon has 4 percent of the vote. Simon and Jorgensen are both Republicans. The top two vote-getters, regardless of party, will advance to the November runoff.
DeMaio told supporters at the US Grant hotel downtown that he's calling on the Republican party to be more inclusive.
"San Diegans want the Republican Party in particular to return to its traditional roots in favor of personal freedoms in all aspects of our lives," he said.
He said to change the country, "we must first change our party."
DeMaio's office, you may recall, was vandalized last week. He has been attacked by NOM for a campaign ad in which he held the hands of his partner in a Gay Pride parade. DeMaio has also been attacked by Congressman Randy Forbes.