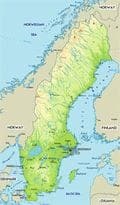 Proof that not only Americans enjoy blaming and punishing the victim, a gay teenager in Sweden reported the slur "dirty fag" scrawled on the bathroom walls at his school only to be told by the principal to "erase it himself."
Perhaps unsurprisingly, other teachers had seen this instance of homophobic graffiti directed at the student as well as several others, but have never taken any action against it.
The student has since left the school for an internship in order to escape the bullying that he endured for two years, and he has reported the incident to Sweden's Discrimination Ombudsman accusing the school of discrimination.