Republican pundit and Senator's daughter Meghan McCain joined the Board of Directors at GLAAD, the organization announced today.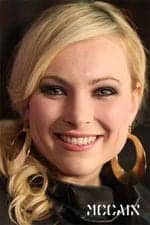 Also joining its board: Executive Vice President, Commercial Services at Hilton Worldwide Jeff Diskin; Harvard Law School professor and venture capitalist with August Capital, David Hornik; and Managing Director at Opportunities for Women, Linda Riley.
Said GLAAD President & CEO Sarah Kate Ellis: "Equality is no longer a partisan issue. For years, Meghan McCain has lent her voice and platform to spreading messages of acceptance across party lines. Now, as the American south and our heartland move closer to LGBT equality, it's critical that we continue to build the bridges that unite us in our common ground – whether you're republican or democrat, gay or straight."