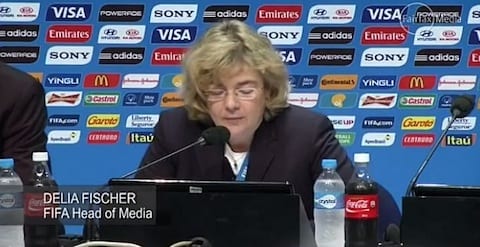 Following reports of Mexican soccer fans chanting the abusive term "puto" during recent World Cup matches, the country's fans were again heard using the abusive term at a June 29 fixture against the Netherlands. "Puto" is the Spanish word for a male prostitute, "fag" or "coward", and a derogatory term for gay men.
Mexican fans previously chanted the homophobic slur during matches against Brazil and Cameroon.
Although Mexican soccer coach Miguel Herrera said that the slur, chanted by fans during opposition goal kicks, is "not that bad," Alejandro Brito Lemus, the director of the Mexican magazine Letra S, which covers LGBTQI issues, said that the use of the term by soccer fans is "completely homophobic."
The Mexican football federation was under investigation following reports made by Football Against Racism Europe. However, the Fédération Internationale de Football Association (FIFA) ultimately decided to take no action against the Mexican football federation as the chant "is not considered insulting in this specific context." FIFA has since dismissed the charge as "improper conduct."
Despite vocally disapproving of the behavior of Mexico's fans, both ESPN and Univision broadcast the chants, as OutSports reports.
In a statement, ESPN sportscaster Bob Ley said:
"This is a long-standing tradition at Mexican national team matches. The word is an anti-gay slur in Spanish. Here at the World Cup this has become a bit of an international issue. FIFA has looked into it. Mexican officials have acknowledged the impossibility of policing the conduct and language of tens of thousands of fans. By way of background and information, you should know that ESPN does not control the audio and video of the international feed."
Univision also warned viewers that offensive chants might be accidentally broadcast during the June 29 match:
"We recognize that during the game there may be language, or chants, from some fans that are offensive to some members of our television audience.  Although we realize this can happen in any televised sporting event, we do not, in any case, condone or endorse the use of such language. Univision Communications supports a World Cup that is inclusive, one that celebrates the diversity of the sport we love and can be enjoyed by all – absent what can be the hurtful consequences of certain words. In this regard, we strive to make sure that our own coverage and commentary is respectful and inclusive of all, including the gay community. This is our commitment to our audience, our community and our partners."
Although FIFA President Sepp Blatter and Brazil's President Dilma Rousseff have pledged to use the World Cup as a platform against racism and discrimination, many feel that FIFA's actions are hypocritical as it has awarded the 2018 World Cup to Russia and the 2022 event to Qatar, despite human rights abuses in those countries and Russia's 2013 decision to pass anti-gay laws.
Watch a report into FIFA's investigations, AFTER THE JUMP…