In a SiriusXM Progress interview last week, Michelangelo Signorile asked solicitor Ted Olson about his work on the issue of same-sex marriage.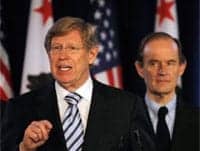 The interview follows the publication of a new book Redeeming the Dream: The Case for Marriage Equality, in which Olson and David Boies discuss how they had California's Proposition 8 ruled unconstitutional and related issues.
In the interview, among other topics Signorile and Olson discuss how the issue of gay marriage can move forward given that the Republican religious base is still opposed, Olson's criticism of the incrementalist approach to the issue of gay marriage, the importance of the Defense of Marriage Act, and how working on the cause has affected Olson personally.
Listen to a few key clips, AFTER THE JUMP…
And read Signorile's full transcript here.