The Associated Press reports that some 85 attorneys from across Oklahoma are joining a coalition in support of marriage equality.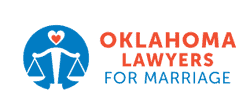 The group Oklahoma Lawyers for Marriage is launching its website on Monday and supports the idea that all marriages should be legally recognized.
One of the attorneys is Democratic state Rep. Emily Virgin of Norman who says she's joining the coalition because she believes marriage equality is "a matter of fairness under the law."
In January, a federal judge struck down Oklahoma's voter-approved ban on same-sex marriage. That case is currently before the Tenth Circuit Court of Appeals awaiting further ruling.