A public education campaign designed to build support for marriage equality in Indiana has launched today, JConline reports: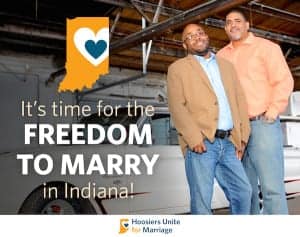 This spring, other campaigns worked in the state legislature to block the constitutional amendment, called HJR-3, but Hoosiers Unite is focusing on public education against Indiana's existing law banning same-sex marriages, Kyle Megrath, the group's marriage coordinator, said.
"We're a public education campaign, so we are geared toward making sure we are highlighting the stories of people," he said. "We feel like we're at a really critical mass locally and nationally with everything that happened with HJR-3. People are having these conversations." […]
Campaign organizers will also ask people to endorse the group. The effort will focus on prominent community members and "folks that might be more unlikely to do that, like Republicans and Libertarians," Megrath said.
Perhaps getting on-the-grounds conservatives to join the cause will be slightly easier now that the state GOP voted to re-insert divisive anti-gay language into its party platform…