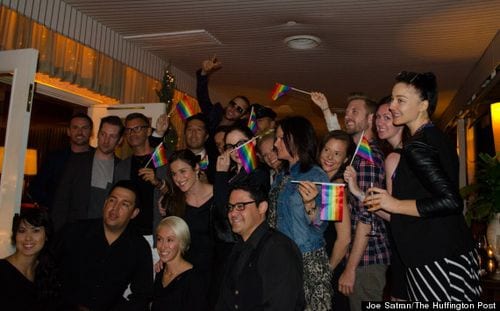 Actress Rose McGowan hosted a party in support of the staff of the Beverly Hills Hotel, as well as to send a message of defiant love to the hotel's owner the sultan of Brunei. 
The Dorchester Collection, to which the Beverly Hills Hotel belongs, has become the center of an international boycott sparked by the recent passage of sharia law in the southeast Asian nation of Brunei. The DC is owned by the Brunei Investment Agency, which is a part of the ministry of finance in Brunei. Stars such as Ellen DeGeneres, Jay Leno, Richard Branson, and Stephen Fry are leading calls for celebrities and those with influence to stop supporting the hotels.
"I want to assemble a group of men and women (and hopefully some adulteresses,) that would be stoned in Brunei but that will be welcome at the BH," said McGowan, reported The Huffington Post.
The party was attended by friends of McGowan who weren't convinced that a boycott would affect the sultan, but would rather have a detrimental effect on the hotel's staff. 
Reports The Huffington Post:
"Rose and I came up with the idea for this whole thing together," [McGowan's friend Amanda] Goodwin said. "We were talking on Facebook about what was going on here, and we just thought, 'Wouldn't it be great if we got together some fabulous people, gay and straight, and responded to this hate with love instead of ignoring it?'"

"Listen," Goodwin continued, "I'm gay. I'm married to a woman. I hate what the sultan is doing to people in Brunei. But I don't think that responding to what he's doing with more hate is the answer. I really feel that way. I think it's great that we're here, being gay, sitting on his sofa. I really want to gay this place up.

"A lot of people have asked me whether I'd go if it were Hitler," she said.

Well, would she?

"Probably. I think I would. I'd go, and I'd say, 'I'm a Jew.'"
McGowan isn't the first celebrity to balk at the boycott. Russell Crowe took to Twitter last week to defend the hotel's staff, whom he sees as "collateral damage" in the campaign.