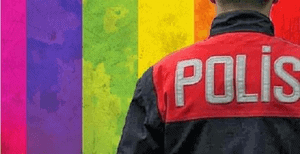 In 2009 in Istanbul, security forces raided the home of a police officer responding to a tip that he was in possession of illegal pornography. None was uncovered, but some evidence was found that suggested that the officer was gay.
After the resulting internal investigation, he was fired from his job for "[Committing] disgraceful and shameful acts that conflict with the quality of a public servant." The officer filed suit to be returned to his duties, and his case went through several appeals over the years The 8th Administrative Court in Istanbul dismissed the case, but a judge for the Council of State determined his behavior fell within the scope of private life, which is protected by the Constitution and the European Convention on Human Rights. 
However, the 12th Chamber of Council of State unanimously ruled to decline the officer's request for a stay of execution to stop his dismissal. The Interior Ministry, who fired the officer, wrote an opinion letter on the matter still standing by their original action, stating (bolding mine): 
There is no doubt that practicising [sic] public duty through civil servants who have lost the required reputation would shake the individuals' trust in the administration and lead to undesirable developments in the relationship between people and the administration. The law takes precautions to prevent such a danger and stipulates the weeding out of these kinds of public servants from the administrative organs through their dismissal.