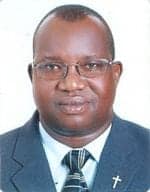 In 2012, several gay rights activists were holding a workshop when Ethics and Integrity Minister Simon Lokodo (right), accompanied by police officers, broke it up. The activists filed suit against Lokodo and now, two years later, they've lost. It is an unsurprising but upsetting reminder of just how little the LGBT community of Uganda has left to hold on to since the passage of heinous anti-gay laws late last year.
ENCA reports:
"We lost on all grounds," gay activist Jacqueline Kasha, one of the team who had brought the case against the minister, told AFP.
Lokodo raided the workshop in February 2012 in the Ugandan town of Entebbe flanked by police, saying he had broken up the meeting as the "conscience of this country."
At the time, Amnesty International condemned the raid as "an outrageous attempt to prevent lawful and peaceful activities of human rights defenders in Uganda."
Our condolences and well wishes to the activists.