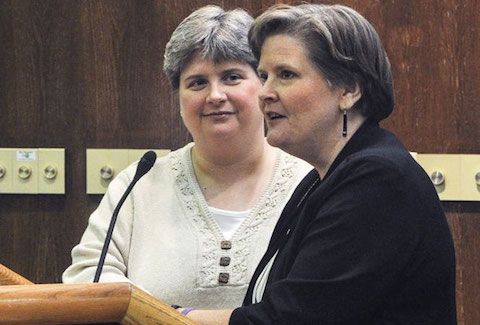 The 10th Circuit Court of Appeals today upheld U.S. District Judge Terence Kern's January ruling striking down Oklahoma's ban on gay marriage, Tulsa World reports:
The 10th Circuit Court of Appeals ruled that the ban violates the U.S. Constitution's guarantee of equal protection under the law for everyone.
The court stayed its opinion, pending an expected appeal.
A three-judge panel of the Denver-based court ruled 2-1 in the Oklahoma case after the same panel ruled June 25 that Utah's ban on same-sex marriage violates the Constitution.
The ban was challenged in 2004 in lawsuits by two Tulsa-area lesbian couples, the day after Oklahoma voters approved adding it as an amendment to the state constitution. The ban passed by a 76 percent landslide.
Read the ruling HERE.