An Air Algerie jet carrying 100 passengers and 16 crew disappeared overnight over Mali after departing Ougadougou, Burkina Faso. The plane was missing for hours before it was reported, the AP reports: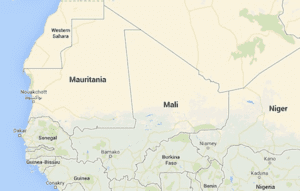 Air Algerie Flight 5017 was being operated by Spanish airline Swiftair, the company said in a statement. The Spanish pilots' union said the plane belonged to Swiftair and it was operated by a Spanish crew.
The plane was lost over northern Mali:
Northern Mali fell under control of ethnic Tuareg separatists and then al-Qaida-linked Islamic extremists following a military coup in 2012. A French-led intervention last year scattered the extremists, but the Tuaregs have pushed back against the authority of the Bamako-based government.
A senior French official said it seems unlikely that fighters in Mali had the kind of weaponry that could shoot down a plane.
UPDATE:
An airline official says the plane crashed.
There were reports that Cuban LGBT rights activist Mariela Castro was aboard the plane but she later refuted them herself.