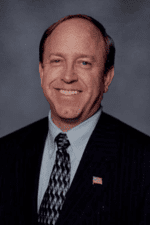 Colorado's Supreme Court has ordered Boulder County to cease issuing marriage licenses to same-sex couples while an appeal from Attorney General John Suthers [pictured] is heard.
The Denver Post reports:
In saying it would take the case, the state Supreme Court ordered Boulder County Clerk and Recorder Hillary Hall — the last clerk in Colorado still issuing licenses to gay couples — to stop.
A spokeswoman for Hall said the office is reviewing the court's order and would have a statement soon. Hall has previously said she would obey an order from the state Supreme Court.
Suthers, a Republican, claimed that county clerks were causing "irreparable harm" to the state by continuing to issue licenses to gay couples.