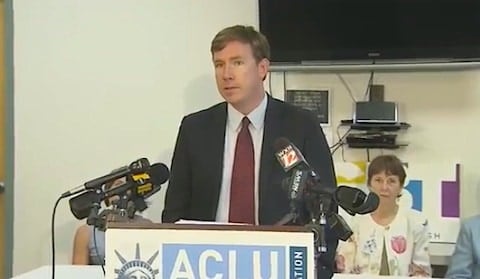 The ACLU of North Carolina told reporters that it would push harder to invalidate the state's gay marriage ban following yesterday's ruling by the Fourth Circuit Court of Appeals affirming the unconstitutionality of Virginia's ban.
The News & Observer reports:
Chris Brook, legal director at the ACLU of North Carolina Legal Foundation, announced the plans before a bank of TV cameras and group of news crews. His organization and the national ACLU are behind several lawsuits pending in federal court in this state challenging the constitutionality of the 2012 voter-approved amendment changing the North Carolina Constitution to define marriage as a union between a man and a woman…
…Brook acknowledged that an appeal to the U.S. Supreme Court decision could mean that gay marriages will not occur immediately in North Carolina. It could be next summer before such a decision is weighed by the U.S. Justices.
But civil rights attorneys want to be prepared to move quickly in the wake of a higher court ruling and they will argue that North Carolina's ban should be overturned immediately.
"The time to act is now," Brook said. "The law is very clear here in North Carolina."
Watch video of Brook at WRAL…