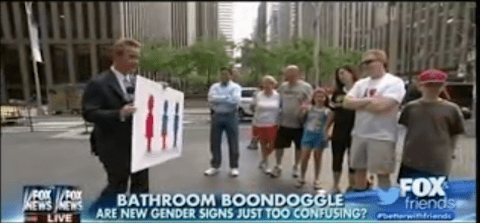 Remember how Fox & Friends host Heather Nauert was so confused by Illinois State University's "all-gender" bathrooms that she and her staff laughed openly on camera? They thought that was a well worth going back to, so on Thursday host Steve Doocy took to the streets with a copy of the new bathroom sign and showed it to a collection of Fox News fans to get their feedback. When shown the male/female/trans emblems, their responses were jaw-dropping:
"Maybe a family restroom?"
"Restrooms for both genders."
"Transgender, that's right."
Shocking.
Responding to the viewer's lack of dismay, confusion, or moral outrage, host Brian Kilmeade snarked, "Well, they're better people than us."
And for once, a Fox News talking head said something factual.
You can watch the Fox fail AFTER THE JUMP…