Fox News correspondent Todd Starnes has never been a fan of gay rights. After all, the advancement of LGBT civil equality has effectively ruined sports and the Grammys for him and has even led to the 'religious persecution' of saintly, anti-gay Christians like Duck Dynasty's Phil Robertson.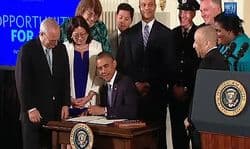 And so it comes as no surprise that Starnes wasn't too pleased with President Obama's executive order barring discrimination against LGBT people employed by federal contractors, calling it the latest sign that the Obama administration is "hell-bent on forcing Christians to assimilate to the militant LGBT agenda"
For his latest column over at Foxnews.com, Starnes gathers quotes from some notable anti-gay talking heads including Family Research Council's Peter Sprigg and First Baptist Church in Dallas pastor Robert Jeffress to reinforce the point made in his comically aweful new book that Obama ultimately "believes gay rights trump everyone else's rights – including religious rights"
The piece is basically just one big, nutty meltdown, but if you care to read it you can do so here.