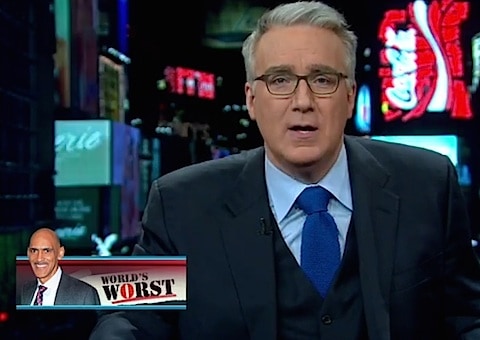 Former NFL coach-turned-NBC analyst Tony Dungy said this week that he would not have taken the NFL's first openly gay player Michael Sam onto a team, "Not because I don't believe Michael Sam should have a chance to play, but I wouldn't want to deal with all of it."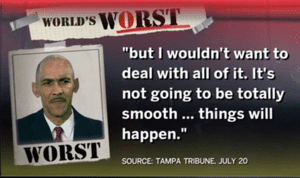 Referring to Sam's homosexuality, Dungy added, "It's not going to be totally smooth… things will happen."
Soon after, commentator Keith Olbermann took Dungy to task by mentioning that in 2007 Dungy supported an Indiana same-sex marriage ban, and in 2009 Dungy also argued for the re-admission of dog-fighter Michael Vick into the NFL.
Considering his stance on Vick, The Orlando Sentinel's George Diaz points out Dugger's hypocrisy:
Vick's crime was dog-fighting. Those who didn't make the cut were shot, beaten and electrocuted. Three dogs were hanged, according to a report by the USDA inspector general, "by placing a nylon cord over a 2 x 4 that was nailed to two trees." Three more dogs drowned after Vick's crew put their heads in a 5 gallon bucket of water…
But Dungy has a serious problem on his hands trying to explain why a gay player is a bigger distraction as a guy who killed dogs. Since, you know, that wasn't a big story. #sarcasm…
Sam's crime? He kissed a guy. On National TV, the day he was drafted by the St. Louis Rams…
"I believe in second chances for people who admit their mistakes and are committed to changing," Dungy said…
But apparently Tony Dungy is not a big believer in first chances for someone who has made no mistakes, and all he is asking for is an opportunity.
In an e-mail statement responding to Dungy's comments, GLAAD President and CEO Sarah Kate Ellis said, "Talent is not a distraction. Michael Sam is first and foremost an excellent football player. That Tony Dungy can only see Michael Sam for his sexual orientation reflects how far out of touch Dungy has fallen with the NFL, which values a player because of his skill, not because of who he loves."
Watch Olbermann's takedown of Dungy AFTER THE JUMP…