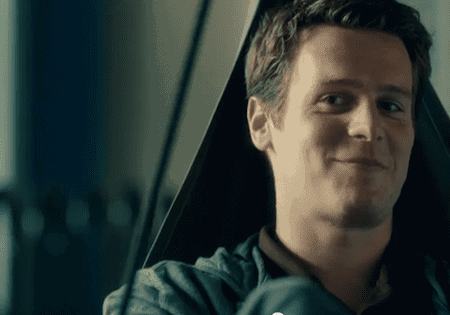 In a new interview with Playbill, modern Broadway legend and Looking star Jonathan Groff has shared his views on the issue of coming out: how his HBO show Looking tackles the issue, and his own experiences.
Groff says one of the things that first drew him to Looking was the way the show felt like it was "definitely 2013-14." Groff remembers being in eighth grade seeing a poster for Will & Grace and being caught off guard, thinking the show was a "huge deal."
But he points out that for today's gays — the Patrick's and Dom's and (ugh) the Augustin's — the concerns go far beyond simply being out; the problems of the men of Looking are much closer to what the general public is facing. Said Groff:
[With] the show none of [the characters] are struggling with their sexuality…It's online dating, it's Grindr, it's all of that — and it's a group of men whose biggest problems in their life are not them grappling with the fact that they're gay, which is very specific to our generation.
Later in the interview, Groff is questioned about his own sexuality — the interviewer mention's Lea Michele's new book Brunette Ambition, where the actress says that during Spring Awakening she suspected Groff was gay but she wanted him to tell her on his own terms.
When Spring Awakening opened in New York, Groff was 21 and Michele was 19. Groff describes what it was like being closeted while working on the show, and it seems his personal experience is consistent with his interpretation of Looking; often, coming out is less of a big deal these days. Said Groff:
When I was in Spring Awakening, I wasn't out to anyone in my life…except for my roommate at the time, who was my 'roommate' in quotations — my boyfriend-roommate… when I was in Spring Awakening, I never, ever talked about it, and everybody was so sweet. All of my castmates were so respectful and must have just intuited that I didn't want to talk about it because no one ever grilled me or asked me. They just knew I wasn't ready, which was so generous, and I appreciate them for that.
He goes on to admit that he feels he missed out during this time — saying he "never realized how shut down [he] was until [he] came out."
Head on over to Playbill for the full interview!