To many, the "sincerely held religious belief" rhetoric that's made the Supreme Court's Hobby Lobby so controversial may have sounded familiar. In March, Arizona legislature was abuzz with the same phrasing.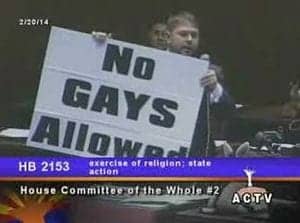 While the legislature from the state of Arizona may object to gay rights for moral reasons, would they object as much if they knew how much it would add to the state's economy?
A new report from The Williams Institute, a think tank at the UCLA School of Law, has released a new study that predicts the economic impact of legalizing same-sex marriage in Arizona. The report estimated same-sex couples would generate a total of $47.5 million in direct wedding spending over the first three years of legalized marriage, and that marriage would bring $5.1 million in sales-tax revenue alone. An especially enticing fact for unemployed AZ citizens: new spending on wedding ceremonies could lead to nearly 520 new jobs in the state.
Speaking with AZcentral, Rocco Menaguale, an artist and designer from Phoenix, pointed out that legalizing gay marriage could lead specifically to new jobs in the state's burgeoning creative industries. Said Menaguale:
The architecture, interior-design and even construction industries are just starting to bounce back from the recession… Supporting marriage equality would start to attract more people to Arizona who want to live here, buy stuff here and come in for travel. It really would effect the whole creative community.
Head to AZcentral for a more in-depth breakdown of the statistics, including a state-by-state comparison of how gay marriage impacts the economy.