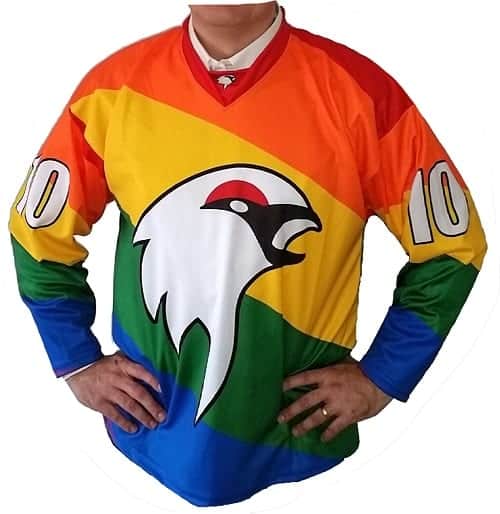 Swedish ice hockey team Kiruna IF will wear rainbow colors for the 2014-2015 season in an effort to become the country's first sports club to receive certification by the Swedish Federation for Lesbian, Gay, Bisexual and Transgender Rights.
Since 2008, the federation has certified businesses and organizations that are committed to providing a good working environment and respectful treatment of LGBTI people, reports Gay Star News.
On Thursday, 26 June, the players presented their new jerseys and talked about how the club will work to promote acceptance and diversity in Swedish hockey and in society at large.
In a press release, which describes ice hockey as "the most laddish sport," Kiruna IF wrote:
"The certification program provides new skills and tools and helps promote LGBT visibility. The focus is on LGBT issues but the certification process is also an excellent opportunity to discuss and reflect on norms and attitudes in a broader perspective."
Swedish Ice Hockey Association director of hockey development Tommy Boustedt said:
"Kiruna IF's acceptance project is a laudable initiative that is in line with Swedish hockey's core values, mission and vision. Participation and democracy shall be the defining features in the work to develop our sport."
Throughout the coming season, team members will give talks in schools across Kiruna to stress the importance of accepting LGBTI people.