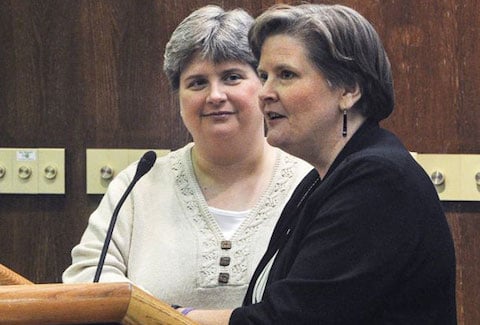 Last month's decision by the 10th Circuit Court of Appeals striking down Oklahoma's ban on gay marriage will now be appealed to the highest court in the land, The Oklahoman reports:
Kerri Kupec, spokeswoman for the Alliance Defending Freedom, told The Oklahoman that the clerk will ask Supreme Court justices to review the July 18 decision by the 10th U.S. Circuit Court of Appeals. In that 2-1 decision, the court ruled that Oklahoma's ban violates 14th Amendment guarantees of due process and equal protection under the law.
Mary Bishop and Sharon Baldwin, the Tulsa County couple who sued the court clerk when she refused to give them a marriage license, issued a joint statement Friday night.
"Although we aren't surprised by the Alliance Defending Freedom's decision to appeal our victory from the 10th U.S. Circuit Court of Appeals, neither are we disappointed," the couple said.
"We are ready to see the highest court in the land affirm that marriage equality is the law of the land. We have confidence in our case and our lawyers, and should the Supreme Court agree to hear our case, we anticipate a victory there, as well."