A gay couple in Arizona, one of whom has been given mere months to live, have asked a federal judge to have their out-of-state marriage recognized in their home state. The two men have been together for over four decades and were married in California earlier this summer.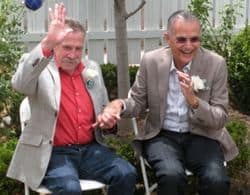 The AP reports:
Lawyers for George Martinez and Fred McQuire of Green Valley say the order is needed so McQuire can be recognized as Martinez's survivor when he dies. That will allow him to take care of his affairs and collect larger Veterans Affairs and other benefits.

The men have been a couple for 45 years and were married in California last month after Martinez was diagnosed with pancreatic cancer.
According to Lambda Legal, "Fred suffers from pulmonary disease and Parkinson's, and George was diagnosed with prostate cancer three years ago that resulted from his exposure to Agent Orange in Vietnam. While the prostate cancer is in remission, this past June George was diagnosed with terminal pancreatic cancer."
Martinez explains that both men journeyed to California to marry even though both were very ill.
It's been a devastating blow. We knew we wanted to get married, and had hoped to be able to do it here, in Arizona, where we live. But now we can't wait. Even though we are very sick and disabled, we decided we had no choice but to make the difficult and exhausting trip to California. We felt like we had to struggle to survive the journey, but we did because we wanted to get married and it was our only option. All we're asking is that Arizona respect that marriage, respect the life we've built together for almost half a century, and allow us to spend these last months together in peace and love.
Martinez & McQuire are one of the three couples who filed a lawsuit in March demanding Arizona recognize out-of-state gay marriages.