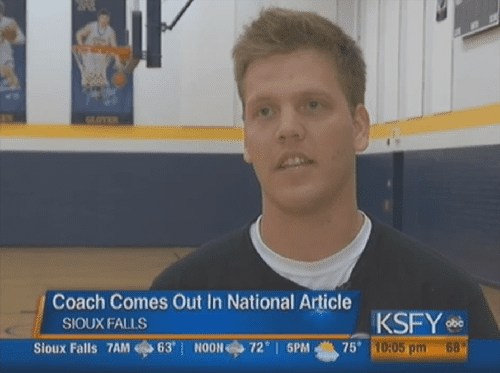 As we have reported many times before, Catholic schools do not have a good track record with gay teachers. As such, one would be forgiven for thinking that a story about a gay coach for a Catholic school, in South Dakota no less, would be one that ended in tragedy. Unbelievably, this is not the case; quite the opposite in fact.
Last week the volleyball and baseball coach for St. Mary High School, a Catholic school in Dell Rapids, South Dakota, Nate Alfson came out in an email to Outsports. Said Alfson of his follow-up meeting with the school:
The meeting with the school went great. We talked about being on the same page as each other and that they were willing to walk through this with me and support me. They want me to be their volleyball coach again and that I was a great role model to the athletes.

I couldn't be happier that they are supportive and want me to be a part of the coaching team. It's a sense of relief to be able to move forward and focus on volleyball and the girls. This season is about them and the hard work they put in. The support has been amazing and I can't wait to live a free life!
It's almost as if Alfson's orientation has no bearing whatsoever on his ability to be a leader, teacher, and role model. Congratulations to St. Mary for acknowledging and supporting Alfson's worth as a teacher and a person rather than dragging everyone down with archaic dogma, and here's hoping that more Catholic schools will follow their lead.
Check out a KSFY report on the original story HERE.