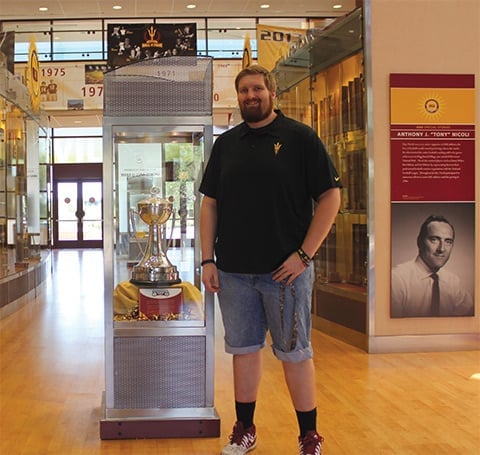 Arizona State Linebacker Edward "Chip" Sarafin has come out as gay, becoming the first college football player to publicly come out while he is still an active player. The 6'6", 320-pound redshirt senior shared his revelation in an interview with Compete magazine, a periodical that focuses on gay sports. Sarafin talked about seeing bullying when he was in high school and his recent experience coming out to his teammates:
"I went to school at Highland High, and it is definitely not the most diverse school. It's probably 80 percent Mormon and 80 percent Caucasian. So there is definitely a disparity there in the types of people that you meet. I know a lot of times a lot of people who were bullied because they were different were actually bullied by athletes, and that made me really angry … the athletes are supposed to be the role models, the heroes of the community …," Sarafin waxes.
Of his own coming out, Sarafin began telling his team-mates last spring. "It was really personal to me, and it benefited my peace of mind greatly."
Sarafin says that he told his teammates mostly for himself and because he wanted them to hear it straight from him instead of the college rumor mill that all players find themselves subjected to at some point.
Meanwhile, OutSports reports that Arizona State coach Todd Graham issued a statement in support of Sarafin:
"We are a brotherhood that is not defined by cultural and personal differences, but rather an individual's commitment to the Sun Devil Way. Chip is a fifth-year senior and a Scholar Baller, a graduate and a master's student. His commitment to service is unmatched and it is clear he is on his way to leading a successful life after his playing career, a goal that I have for every student-athlete. Diversity and acceptance are two of the pillars of our program, and he has full support from his teammates and the coaching staff."
Michael Sam also sent Sarafin some love, offering him words of encouragement and support on Twitter:
Congratulations Chip Sarafin for having the courage to be yourself. Wishing you and your teammates much success this season. #courage2014

— Michael Sam (@MichaelSamNFL) August 13, 2014
(photo via Compete)