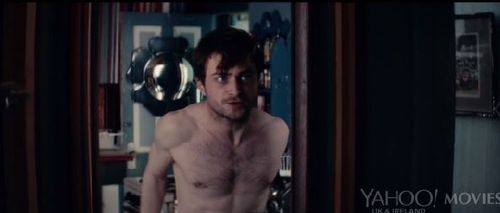 After years of teaser images, the first official trailer for Horns has finally arrived – with the film looking like it has the potential to be a creepily fascinating slasher/romance hybrid.
It also has Daniel Radcliffe shirtless which, you know, is great too. 
Writes Yahoo! Movies UK of the film's plot:
While most people his age are worried about a breakout of pimples, Ig's problem is a pair of horns that have literally broken out of his forehead. The protrusions, which also grant special powers, appear after his long-time girlfriend Merrin (played by Juno Temple) is brutally murdered and Ig is the prime suspect. 
Watch the trailer and check out the film's posters, AFTER THE JUMP…
Based on the best-selling 2010 book of the same name by Joe Hill (son of Stephen King) Horns is set for theatrical release on October 31.