Dutee Chand, representing India, has been disqualified from the 2014 Commonwealth Games after failing a gender test.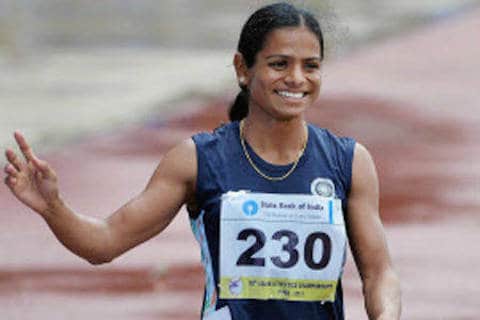 Dutee Chand, representing India, was disqualified last month from the 2014 Commonwealth Games after failing a gender test, reports Bustle. The test showed that 18-year-old Chand's testosterone levels were above the range considered "normal" for female athletes.
In 2012, Chand became the 100-meter sprint national champion in the under-18 division.
After winning two gold medals for India during the 16th Asian Junior Championship in June, Sports Authority of India (SAI) officials subjected Chand to the test which ultimately ruled her ineligible to represent the country this month in Glasgow.
Chand said that she is "completely shattered" by the result.
In a press release, SAI said:
"Preliminary investigations indicate that the athlete is not fit for participation in a female event due to female hyperandrogenism. The athlete will still be able to compete in the female category in future if she takes proper medical help and lowers her androgen level to the specified range. We reiterate that these test results do not determine her gender. The test simply tells us that she has excess androgen in her body and is therefore not eligible to compete in the female category."
Hyperandrogenism, a medical condition in which an excessive amount of testosterone is produced by the body, is often the result of polycystic ovary syndrome and cal also manifest as a result of hyperactive adrenal glands or as the result of an intersex condition.
Bustle notes that although setting standards in sport is designed to eliminate "unfair" advantage, Chand is a woman who happens to naturally produce more testosterone than the average woman:
"If we are to believe that the advantages brought on by Chand's naturally-produced hormones should be reason enough to disqualify her from competing against other women, where does this stop? If a women's basketball player happens to be six inches taller than an arbitrary range of acceptable heights, should she be sent to play against men? Yes, that basketball player may be an outlier, and yes, Chand's testosterone levels may make her an outlier, but isn't that what professional athletes are? Isn't that what makes watching sports so entertaining in the first place? The world's greatest athletes aren't average; they are outliers.
"It's unfortunate that Chand, whose body chemistry may predispose her to athletic success, will need to take medication to curb her own gifts, and to return her to the 'normal' range. It's unfortunate that in today's world we have yet to realize that normal is subjective; that neither women nor men fall neatly into these arbitrarily-defined boxes of acceptable.
Writes Kalpana Sharma in The Hindu:
Our sport authorities need to be educated. Urgently. They need a crash course in understanding human biology, that there is no clear binary between male and female and that there are many conditions in-between.  But clearly, this knowledge, that has now become fairly commonplace, has failed to trickle down to those controlling Indian athletics.  They continue to believe that testing testosterone levels will conclusively establish whether a woman athlete is indeed a woman!
 So even as women athletes are bringing home medals from the Commonwealth Games, the Sports Authority of India (SAI) and the Athletics Federation if India (AFI) will be better remembered for denying, virtually at the last minute, the chance for one of our most promising runners to compete in these games in Glasgow.