India's Cabinet has decided to bar same-sex couples in the country from adopting children, Live Mint reports: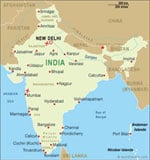 The cabinet took the decision on Wednesday while considering amendments to the Juvenile Justice (Care and Protection of Children) Act, 2000, a government official said. However, the draft Bill, which also covers rehabilitation and adoption of children, does not mention disallowing same-sex couples from adopting.
The current law allows unmarried men and women above the age of 30 to adopt. Single LGBT Indians are not specifically barred from adopting, but whether the cabinet decision will change this will become clear whenever the Bill is tabled in Parliament.
The Central Adoption Resource Authority (CARA) guidelines prevent foreigners in same-sex relationships from adopting children in India.
Last year, India's Supreme Court reinstated a colonial-era ban on homosexuality with the Indian government saying last month they have no plans to amend or change the law until it is reviewed again by the high court.