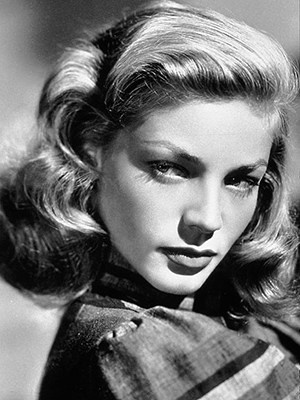 The Hollywood icon passed away in New York on Tuesday, reportedly suffering a stroke according to USA Today. Bacall, 89, was a larger than life figure known for her husky voice and sensual performances. Originally a model and stage actress, she was cast in her break-out role by director Howard Hawks in 1944's To Have and Have Not opposite Humphrey Bogart. Bogart was 44 and unhappily married when the pair met. While Bacall was only 19 at the time, the pair quickly fell in love. "Bogie and Bacall" were married in 1945 and were together for 12 more years until Bogart's death in 1957. Her career thrived throughout many periods of her life, as The LA Times notes: 
"[Bacall] costarred with many of the eras biggest names, Kirk Douglas in "Young Man With a Horn", Gary Cooper in "Bright Leaf," Betty Grable and Marilyn Monroe in "How to Marry a Millionaire," John Wayne in "Blood Alley," Rock Hudson in "Written on the Wind" and Gregory Peck in "Designing Woman." […]
Bacall returned to her Broadway roots many times. She appeared in the 1959-60 comedy "Goodbye Charlie," the 1965-68 comedy "Cactus Flower" and the 1970-72 musical "Applause," which earned her her first Tony Award.
In 1996, Bacall appeared as the meddling mother to Barbra Streisand in "The Mirror Has Two Faces," a role for which Bacall received her only Academy Award nomination as supporting actress.
She was considered a shoo-in to take home the Oscar but lost out to Juliette Binoche for "The English Patient." 
Bacall did go on to receive an honorary academy award in 2009. Though awards and nominations were merely icing on the cake:
"Listen, I never went into this business thinking of winning anything," she said. "I went into it because I loved it and I wanted to be good at it. It was a form of expression for me. I love to hide behind characters. So [any recognition] I get is a perk. It's just an extra. Just the fact that all that happened to me last year, it is–well–fabulous."