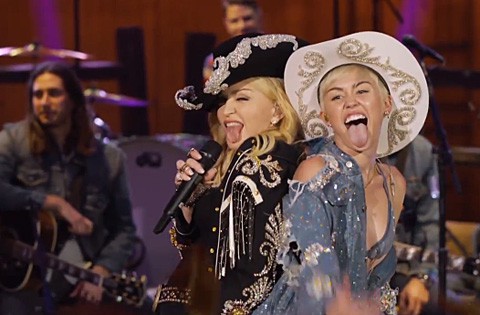 The National Commission for Public Performances in the Dominican Republic announced yesterday that they would be banning a Miley Cyrus concert next month on morality grounds.
Blabbeando reports:
"The National Commission for Public Performances in the exercise of the powers given by the Constitution of the Republic through Regulation 824 of Law Number 1951Article 4306 – the purpose of which is to prevent public performances that offend the morals, good customs and relationship between friendly countries – imposes this ban based on Miley Cyrus' common engagement in acts during her concerts that defy morals and customs in ways usually penalized by Dominican law," a statement reads.
They add that Cyrus "uses inadequate attire, corrupts language, uses perverse imagery and phrasing, uses phrases with double meanings, glorifies crime, violence and denigrating acts against civility and promotes sex, lesbian sex and the use of inadequate objects in public."
Although homosexuality is not illegal in the Dominican Republic, the country is culturally conservative and overwhelmingly Catholic. 
Nicolás de Jesús López Rodríguez, a Catholic Cardinal from the Carribean nation who has previously referred to openly gay U.S. Ambassador James "Wally" Brewster as a maricón (Spanish slur for "faggot"), has repeatedly voiced his opposition to gay rights and gay people in general.