The National Organization for Marriage has announced their latest boycott target, Target, after the retail giant recently signed on to an amicus brief in support of marriage equality pending in the 7th Circuit Court of Appeals. The cases before the 7th Circuit are challenging state bans on same-sex marriage in Indiana and Wisconsin.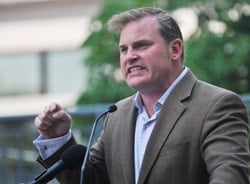 Wrote NOM president Brian Brown:
Target and other companies need to be forced to realize that it is their alignment with the radical cause of redefining marriage that is "bad for business"—not states' marriage laws that uphold and protect the common-sense idea that kids do best with a mom and a dad!
So I'm announcing a new boycott today, against Target, for insulting consumers like you and me. The brief they signed in court this week insinuates that people like you and me, who would vote to uphold traditional marriage, as akin to segregationists and racial bigots. Would you want to shop at a place that viewed you in that way? 
Back in 2012, NOM launched a failed boycott of Starbucks over the company's support for gay marriage. Maybe they'll have more luck this time…