Jeremy Hooper — the blogger behind Good.As.You. — loves it whenever the anti-LGBT National Organization for Marriage uses strained analogies to demonstrate how "redefining marriage" will destroy the universe.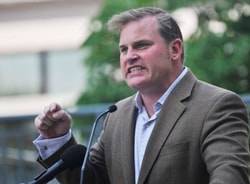 In his latest blog post, Hooper points out NOM President Bryan Brown's tortured comparison of marriage to a dining room set, because marriage should only be between one table and a chair… or because a chair isn't a table… or because gay marriage is like two tables marrying… or something:
Suppose you took a table and a chair and together referred to them both as chairs. In that instance, the two things really would be different—and by calling them the same thing, you would have made the term "chair" meaningless.
The point is this: the word "marriage" either means something or it does not. Isn't it only fair and just to ask first what it does mean before trying to decide to apply the term to something new?
Calling a table a chair does damage to the meaning of the word "chair"—and it does no service to our understanding of either tables or chairs. It is thus injurious to our wisdom and knowledge on three counts, and reduces our ability to reason at all.
So it goes with marriage. Calling something "marriage" that is not marriage damages our public notion of marriage, in multiple ways. It neither serves society as a whole, nor does it ultimately serve society's members because it reduces their ability to make any reasonable or legal distinctions. And so, when something else comes along purporting to be "marriage," no legal or moral rationale exists for drawing the line.
Hooper comments:
"Unlike nearly half of our states, twenty-nine consecutive courts (and many before that), the federal government, and a growing majority of the American public, Brian Brown has taken upon himself to determine that a civil contract between two loving and committed adults can only be called a marriage if the union has the distribution of penises and vaginas that he finds proper."
Knowing that these are the best arguments our opponents have against nationwide marriage equality almost makes one look forward to the inevitable 2016 Supreme Court decision that'll finally bury groups like NOM.