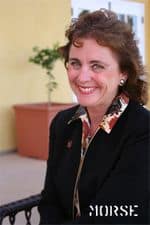 Jennifer Roback-Morse, who has long been a mouthpiece for the National Organization for Marriage and currently serves as president of NOM offshoot Ruth Institute, is putting marriage equality on the fast track – predicting that the issue will be solved within the legal system within the year.   
The Advocate reports that Morse told the National Catholic Singles' Conference earlier this month that she wanted to "go on the record" about "what is going to happen as we move along the path of redefining marriage." 
"We're here, in 2014, talking about the redefinition of marriage. I'm going to go on the record here, and forecast, that by this time next year, it'll be over, as a legal matter," Morse continues. "There will be same-sex, genderless marriage in every state in the union."
Morse went on to apologize to any Texans in the room, telling them that they "are not going to be able to hold out" on maintaining discriminatory marriage laws.
Luckily, Morse and any anti-gay bigots in the audience can find solace knowing that the majority of Utah (and Maggie Gallagher) stand with them in continuing to oppose marriage equality while still accepting its inevitability.