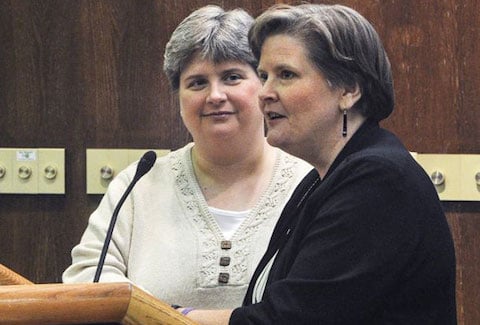 Oklahoma's ban on same-sex marriage, which was overturned last month by the 10th Circuit Court of Appeals, has now been appealed to the U.S. Supreme Court. This follows on the heels of a similar appeal made by Utah officials on Tuesday concerning their own state's ban on gay marriage. 
The appeal in Oklahoma was filed by lawyers for Alliance Defending Freedom, the Christian legal counsel representing Tulsa County Clerk Sally Howe Smith, who was sued after refusing to grand a marriage license to a gay couple.
The AP reports:
"The 10th Circuit … negated the exercise of this fundamental right (of voting) by more than 1 million Oklahomans and millions of voters in other states," Wednesday's appeal filing stated. "Invalidating the people's voice on an issue as profound as the definition of marriage presents an important question that warrants this court's review."
ADF senior counsel Byron Babione said, "The people of every state should retain the freedom to preserve marriage if they so choose. Courts shouldn't decide the legal destiny of marriage in any state, let alone in every state."
In a joint statement released last Friday, Sharon Baldwin and Mary Bishop, the couple who challenged the gay marriage ban shortly after it was approved overwhelmingly by voters back in 2004, said the following:
"We are ready to see the highest court in the land affirm that marriage equality is the law of the land. We have confidence in our case and our lawyers, and should the Supreme Court agree to hear our case, we anticipate a victory there, as well."
Read Smith's petition below: