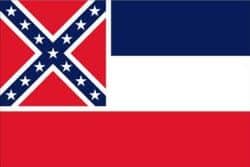 The Campaign for Southern Equality launched an action yesterday to have out-of-state marriages recorded in Mississippi. Same-sex couples from eight different counties tried to have their home state recognize the very real bonds of matrimony achieved elsewhere around the country, a difficult goal considering that Mississippi's same-sex marriage ban is still in place, along with their more recent religious-exemption-for-businesses legislation.
The Washington Blade reports:
Jennifer Pierce of Biloxi, who married her wife, Jena Pierce, in Connecticut last December, plan to try to record their marriage with the Harrison County Chancery Court in Gulfport.
"To us our marriage license is more than a piece of paper or even the state recognizing we are a legitimate couple," Jennifer Pierce told the Blade, referring to their 6-year-old daughter Auna who began first grade last week. "It's about the protection of the little girl who sees us as her parents and getting legally married was the first step of many we need to take towards the protection and well-being of our family." 
Public support for same-sex marriage in Mississippi is likely very low, though several mayors have expressed that they have "no problem" with the ceremonies. Still, the Magnolia State represents a difficult block to tumble in the movement toward full marriage equality in the U.S.
"Couples are recording their marriage licenses to create a public record of their love and commitment," said Rev. Jasmine Beach-Ferrara, executive director of the Campaign for Southern Equality. "LGBT people in Mississippi and other Southern states simply cannot keep waiting for equality. There is an urgent need for legal protections for families and individuals in Mississippi, and so we are calling for laws to change as quickly as possible to ensure that, no matter what state you live in, you are treated as a full and equal citizen."
Though the action's efficacy on the whole is unknown at this time, one couple did send out a celebratory tweet:
Here's hoping that more of the appeals for recognition were heard and honored, and that Mississippi is on the path toward marriage equality.