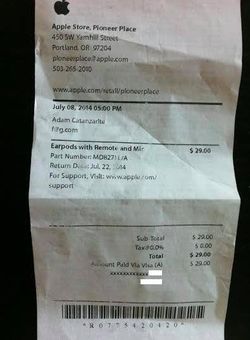 Adam Catanzarite went into a Portland, Oregon Apple store for a pair of headphones, and left with what could be considered a homophobic slur. A few days after his purchase, Catanzarite took a closer look at his receipt only to find "f@g.com" written where his email (which he declined to give to the employee) should have been.
Catanzarite, an HIV prevention specialist at Cascade AIDS Project and a self-identified queer individual, took action, calling the store, speaking with the manager, and eventually being promised a refund; as of yesterday, he had not received it.
PQ Monthly reports:
In a post to Facebook, Catanzarite explained his immediate response and why he felt this was unacceptable:
"The store manager did not do what he said he would to rectify the situation… being queer and having worked with queer youth, I know first-hand that this is an example of the type of #homophobic beliefs and actions that lead young people to harm themselves. This type of action is NOT OKAY, especially from a company that prides itself on being LGBTQ inclusive and welcoming."
Rather than fire the employee who entered the offending phrase, Catanzarite believes that there should be more cultural competency training for Apple employees on the whole. The Oregonian reports:
Catanzarite followed the initial Facebook post with another on Wednesday morning, describing the encounter in greater detail. In that post, he said:
"The employee who entered f@g.com should not be fired (take a minute to let that settle in if you need to), but should be given an opportunity to learn about the impact of the use of the word fag and how these words impact the individuals who have been oppressed by them."
Catanzarite said he hasn't heard from Apple regarding how or why the slur appeared on his receipt but in this case, he said, the employee's intent doesn't matter.
"All I can really focus on is how it impacted me and how we can move forward to make sure this doesn't happen again," he said.
Several updates from PQ Monthly indicate that the incident really could have been accidental on the part of the employee, particularly regarding the quick input of emails (when not given to the employee) and the proximity of "f" and "g" on the keyboard. The unnamed contact–an employee at the same Apple store location–also said that they believe the employee in question is homosexual and that they have heard him use the word "fag" "in a casual, callous, or even joking manner."
Misunderstanding or not, it is undoubtedly important to recognize the sensitivity around use of inappropriate or offensive language. Apple has yet to respond to the situation, beyond recognition of its occurrence.