Yesterday afternoon, the 10th Circuit Court of Appeals extended a stay on a federal judge's ruling from last month that found Colorado's ban on same-sex marriage unconstitutional.  
Equality on Trial reports: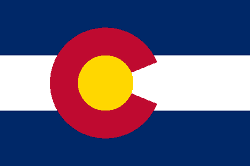 [U.S. District Judge Raymond P. Moore]  had issued a preliminary injunction against enforcement of the ban in July. The court then halted proceedings in the case, pending issuance of the mandate in Kitchen v. Herbert, the challenge to Utah's same-sex marriage ban in the Tenth Circuit. A request to halt the injunction was denied, but a temporary stay, until August 25, was granted so that the state could ask the appeals court for a stay pending appeal.
Without this new stay, marriages could have begun in Colorado on August 25.
The Utah case is in the Supreme Court, and the Justices are likely to have their first opportunity to grant review during their conference on October 10. The mandate in the Kitchen case wouldn't issue until the Supreme Court denies review or rules on the merits.