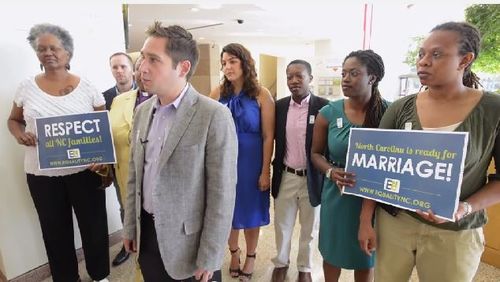 On Wednesday, LGBT rights advocates delivered over 10,000 petitions to the offices of North Carolina Governor Pat McCrory [pictured below] urging him to stop defending the state's ban on same-sex marriage.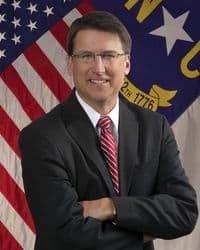 "We are proud to deliver this important message alongside families from all across the state who are demanding Gov. McCrory not waste one taxpayer dollar defending what is now an unconstitutional and indefensible law," said Chris Sgro, Equality NC's executive director. "In doing so, we join them in asking that our elected officials not only stand with their constituents, but also help North Carolina stand on the right side of history." 
Check out video of petitioners delivering the letters to McCrory's regional office in Charlotte, AFTER THE JUMP…
A spokesman for McCrory, however, indicated that the governor wasn't swayed by the petitions:
 "This issue will ultimately be decided by the United States Supreme Court. As of now, North Carolina's marriage amendment remains in full force and effect. To ensure that our laws remain in effect until the final Supreme Court ruling, we call on the attorney general to request a stay in North Carolina's pending cases," said Ryan Tronovitch, deputy communications director. 
In related news, a federal court on Wednesday stayed any further action on North Carolina's same-sex marriage battle until the Supreme Court rules on Virginia's gay marriage ban. 
Last month, NC Attorney General Roy Cooper announced his office would no longer defend the state's gay marriage ban after the Fourth Circuit overturned Virginia's ban.