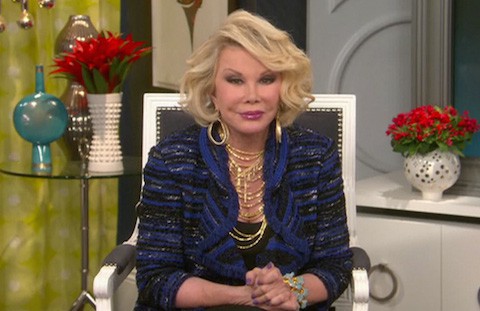 Joan Rivers is in critical condition after being rushed to a NYC hospital after she stopped breathing while having throat surgery at a clinic, TMZ reports:
We're told Rivers was undergoing the throat procedure in a clinic (specifically on her vocal chords) … when she stopped breathing during the surgery.
Sources say 81-year-old Rivers was rushed to Mount Sinai hospital in New York.
We're told her daughter Melissa is on her way to New York.
According to TMZ, a 911 caller said of Rivers: "We have somebody in either cardiac or respiratory arrest."
ABC News adds:
The New York City Fire Department transported a woman matching her description to Mt. Sinai Hospital earlier this morning after receiving a call that the woman was in cardiac arrest at an Upper East Side clinic, Yorkville Endoscopy, an FDNY source said.
"She's not conscious, but she's stable," said an obviously distraught Graham Reed, the comedian's assistant. Reed refused to provide any details when approached by a reporter.
But the family source said friends were gathering Thursday inside Rivers' apartment. "She would want us all to laugh," the source said. "But at the moment, we are all praying."
Developing…