Following yesterday's 3-0 pro-equality ruling by the Seventh Circuit Court of Appeals, 32 states asked the Supreme Court to settle the gay marriage issue once and for all.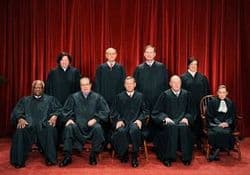 The AP reports: 
Fifteen states that allow gay marriage, led by Massachusetts, filed a brief asking the justices to take up three cases from Virginia, Utah and Oklahoma and overturn bans. And 17 other states, led by Colorado, that have banned the practice asked the court to hear cases from Utah and Oklahoma to clear up a "morass" of lawsuits, but didn't urge the court to rule one way or another.
The Massachusetts brief was joined by California, Connecticut, Delaware, hawaii, Illinois, Iowa, Maine, Maryland, New Mexico, New York, Oregon, Pennsylvania, Vermont, and Washington.
The Colorado brief was joined by Alabama, Alaska, Arizona, Georgia, Idaho, Louisiana, Mississippi, Missouri, Montana, Nebraska, North Dakota, Oklahoma, South Carolina, South Dakota, West Virginia and Wisconsin.
Read the Massachusetts brief below: