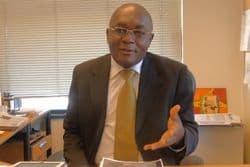 Anti-gay legislation in Cameroon is meant to punish "sexual relations with a person of the same sex" and can result in prison sentences up to five years in length. One attorney, Michel Togue (right), is speaking out against the injustice not only of the law itself, but also the shoddy, treacherous ways in which it is reinforced. According to Togue, article 347 of the Cameroon penal code is more often than not invoked based on stereotyping and entrapment.
Think Progress reports:
Togue told ThinkProgress that of the dozens of such cases he has represented, very few people were actually caught in the act of actually having sex. Once an accusation of homosexuality is made, police make arrests based solely on how individuals present themselves. For example, if a man is found to be cross-dressing, that could be used as proof that he is gay in court. If somebody has a job that doesn't fit their gender, like a male hairdresser, that too could be used against them. A judge convicted one of Togue's clients for feminine mannerisms and for drinking Bailey's Irish Cream, which he felt only a woman would drink…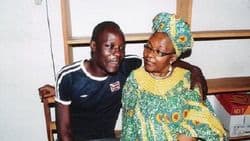 One of the most high-profile cases was that of Jean-Claude Roger Mbede (left), who texted a picture of himself holding a sign that read, "I'm very much in love w/u" to another man. The recipient reported the image to the police as "sexual harassment," then invited Mbede over to his home, where the police were waiting to arrest him. Mbede was sentenced to three years in prison. "If Roger was sentenced as a homosexual," Togue asked, "with whom did he have sex?" Mbede was provisionally released on medical grounds in 2012 and went into hiding; he died earlier this year after he could no longer afford hospital treatment for a hernia.
While the widespread misuse of the penal code is disturbing, the reinforcement of anti-gay laws by the Catholic church is spreading a message of hate further than it would otherwise reach. in 2013, bishops from around the country issued a statement reading: "homosexuality opposes humanity and destroys it." The cultural ramifications of such fear-mongering are incredibly dangerous.
This stigma is also having a negative impact on health care in the country, particularly when it comes to HIV outreach. "They can't go to the hospital for the treatment or even for a test because they're afraid," Togue explained. He knows of at least one case where an individual admitted to a nurse that he'd had same-sex relations and she called the police on him.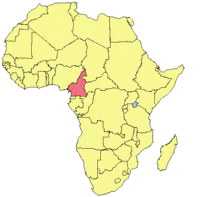 Togue remains hopeful, however, and believes that the work of LGBT organizations in Cameroon could positively impact the cultural milieu surrounding homosexual identity.
Togue hopes that local organizations in Cameroon will help people learn that "a homosexual is our friend, is our brother, is our sister, is part of our family — is not a stranger, not someone coming from outside."
Image of Togue via Global Rights.