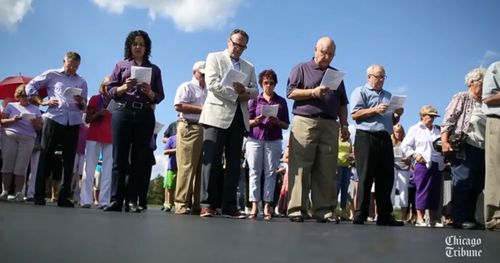 Colin Collette (above center in white jacket) was fired from his position as music director at Holy Family Catholic Community church in Inverness, IL this July after photos of his same-sex marriage proposal emerged. Ever since he has received an intense outpouring of support from the church's parishioners, though the archdiocese of Chicago have remained tight-lipped. When Collette reached out to Cardinal Francis George for a meeting regarding the incident, however, the response was immediate and affirmative; the two met on Tuesday, praying together and, if all went to Collette's plan, discussing his job.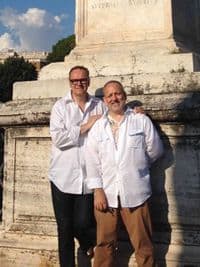 The Chicago Tribune reports:

"I was incredibly grateful to the cardinal for meeting with me. This is an incredibly difficult time for him. … I was moved beyond words that he would meet with me," Collette said of George, who is battling cancer. "We prayed together. He was wonderful. He was very pastoral."
Collette declined to elaborate on the nature of the discussion Tuesday. He said he had sought the meeting in hopes of getting his job back. While there was no indication that would happen, Collette said the cardinal urged him to speak to his pastor.
"My head is sort of spinning, but as I said over and over, my whole life has been the church. It's my love. It's my passion, and I pray for the opportunity to do that," he said.
Check out a Chicago NBC 5 report on Collette's meeting with the Cardinal, AFTER THE JUMP…
Though Collette has been the recipient of a great deal of community support–including a rally held Sunday to indicate that support to church leaders–he is well aware that his sexual orientation and relationship are not to everyone's liking.
"I'm not that naive to know that there are some people who believe that who I am basically is wrong. I'm not that naive, but the love and support I have received is truly humbling and is beyond words," Collette said.
We will continue to report on Collette's story, but for now we are happy to see the level of affirmation he is receiving from church members, and a willingness on the part of some church officials to discuss the matter. Collette said that he and the Cardinal would meet again soon.
Check out video coverage of the press conference at the Chicago Tribune.