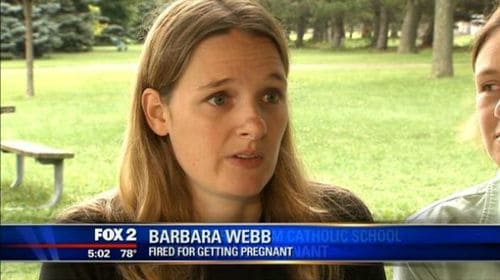 A gay former chemistry teacher at a Catholic, all-girls high school in suburban Detroit said she was fired because of her "nontraditional" pregnancy, the Detroit Free Press reports:
Barbara Webb, 33, of Madison Heights said she'd worked for Marian High School for nine years, also coaching volleyball and softball and serving as student-government moderator. She is gay but said she believes the public, visible nature of a pregnancy led to her firing.
She learned she was pregnant in June, told her employer in July and was fired in mid-August, Webb said. On Aug. 27 she posted on Facebook announcing the firing and encouraging people to "speak out against hate wherever you see it," according to the post shared more than 1,000 times by Monday.
Today, Webb told the Free Press that her termination letter didn't give a reason. But her previous conversation with administrators made clear the concerns had to do with a morality clause allowing for firing over public conduct of "lifestyle or actions directly contradictory to the Catholic faith," she said.
"That you can't hide a pregnancy from the public is why I was terminated," she said
Watch a myFoxDetroit report on the story, AFTER THE JUMP…
School administrators have declined to comment, saying that the situation remains "confidential." Meanwhile, numerous students and alumni have spoken out in support of Webb and a Facebook page "I Stand With Barb Webb" has already gained over 2,000 members.