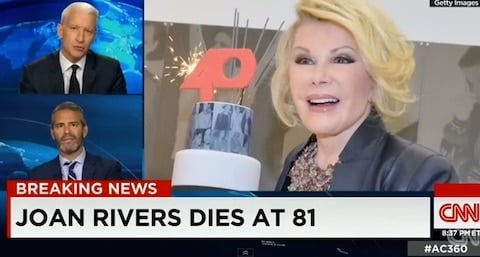 Bravo's Andy Cohen joined Anderson Cooper last night to discuss the death and career of Joan Rivers and talked about how the "uncensored diva's" perseverance and underdog status helped make her a gay icon.
Anderson, however, said he didn't like her when he was young.
Said Cooper: "As a kid, I didn't like her, because she actually made fun of my mom (Gloria Vanderbilt) in some jokes when my mom was doing the jeans and stuff… and as a little kid, I found it upsetting to see her making fun of my mom, but as an adult when I got to know her I came to actually like her and appreciate her."
Watch, AFTER THE JUMP…
Also, if you missed it, watch how all the late night talk show hosts paid tribute to Rivers.