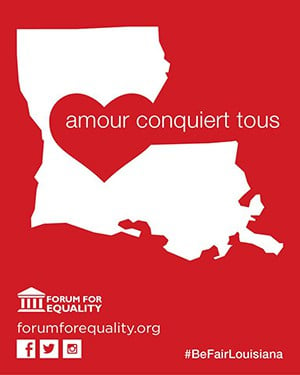 As we reported earlier, U.S. District Judge Martin Feldman became the first judge since United States v. Windsor to uphold a state's constitutional ban on same-sex marriage. ABC News now reports that Forum for Equality, the ALCU, the Human Rights Campaign, the LGBT Community Center and PFLAG New Orleans are encouraging people in New Orleans to protest Judge Feldman's decision tonight in Jackson Square, located in New Orleans' historic French Quarter. 
The ruling today upheld the unconstitutional ban on recognizing loving and committed same-sex couples. Forum for Equality and the courageous couples who have lead this battle will not stop! We will take this fight all the way to the Supreme Court! We will not let one decision turn back the tide of victories because we stand on the right side of history. Rally with Forum for Equality, ALCU, HRC, LGBTCC and PFLAG today to show Louisiana that we are committed to standing for love and fairness for all.
The event is happening now at the Pedestrian Mall, Jackson Square New Orleans, LA 70130 (In front of St. Louis Cathedral).