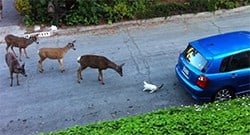 LGBT groups face funding cuts in the UK: "In London, LGBT organisations saw overall income 'fall consistently since 2010/11' by 9%. But funding from the public sector dropped by 34%. The report found: 'Some organisations had experienced a fall of as much as 50%.' Outside the capital, 75% of LGBT groups have seen state income remain either stagnant or fall. And the reserves and transition funding with which many have got by during this period are 'masking real reductions in public sector funding', so that 'the real impact of the reduction in public sector funding may not become evident until 2015,' the report found."
Cat vs. deer.

Grover Norquist attended Burning Man: "A community that comes together with a minimum of "rules" demands self-reliance – that everyone clean up after themselves and help thy neighbor. Some day, I want to live 52 weeks a year in a state or city that acts like this. I want to attend a national political convention that advocates the wisdom of Burning Man."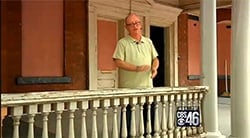 Atlanta non-profit prepares midtown building to serve as gay teen homeless center: "Lost N' Found's director says [LGBT teen homelessness] is a problem facing hundreds of teens in the Atlanta region, when their parents and churches disown them after they announce their homosexuality. 'People need to know this is an epidemic in the southeast, and it's not going away any time soon,' said Executive Director Rick Westbrook. 'Until we get all the queer youths in Atlanta situated, I'm not going anywhere.'"

Disney can't 'Let It Go': Frozen short coming in 2015.

Apparently, there's a deleted scene on The Neighbors DVD/Blu-Ray that provides extra bits of Zac Efron's "happy trail, abs, and massive bulge." 

Miley Cyrus on social media: "You know what hurts your brain? Googling yourself. You know what hurts your brain? Instagram. You know what hurts your brain? Reading comments on Facebook. You know what hurts your brain? Reading US Weekly."

Dear Prudence weighs in on the knee-recliner debate.

This jaw dropping picture of the gigantic Andromeda galaxy. 

Vladimir Putin brags he could take Ukrainian capital Kiev "in two weeks."

Internet is temporarily fooled by Betty White death hoax: "Betty White hasn't died. An article that appears to make fun of the rampant death hoaxes that have gone viral is saying that Betty White 'dyes peacefully in her Los Angeles home,'–confusing many on social media websites. The article says that she's 'not a natural blonde.' It was published on Empire News, a site that claims to publish 'satire' that usually isn't all that funny."

Hugh Jackman ditches the beard. Kinda.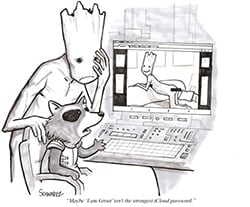 Even Groot got embroiled in the iCloud celebrity photo hacking scandal: "Maybe 'I am Groot' isn't the strongest iCloud password."
President Obama pledges to punish ISIS after beheading of American journalist, Steven Sotloff.

Ricky Martin plans on adding a baby girl to his family: "The little baby will come next year. When daddy's little girl arrives, I want to be there," Ricky said (via Fox News). "We have to make a couple of phone calls to look for the little girl."

George Mason University professor compares being gay to smoking, suggesting LGBT people should pay more for life insurance: "That's a lifestyle shortening of life expectancy greater than obesity and tobacco use," Williams wrote. "Yet one never hears of insurance companies advertising lower premiums for heterosexual men. You say, 'That would be discrimination.' You're right, but why is it acceptable for insurance companies to discriminate against smokers and the obese but not homosexuals?"

Joan Rivers has been moved out of intensive care, into a private room. 

First look: Allison Williams as Peter Pan.

Ebola outbreak in West Africa continues to worsen, with 40% of the reported cases coming in the last 21 days according to the World Health Organization.